About
"Italian food is timeless."
– Cory Dragone, Executive Chef
In my kitchen, we hand-make 5 pounds of fresh ricotta cheese each day. I learned to make pasta in Rochester, pastries in Portland and coffee in New York. Blacksmith is an accumulation of all those years– purposely taking every job in the book, giving up everything to learn something new.
Executive Chef and Co-owner
At the young age of 14, Cory bused tables at his aunt's restaurant. By 15, he was working in a fish market, putting on Catholic fish fries each Friday. After high school, he worked at bistros, bars and grills around Rochester, NY, learning as much as he could about cooking.
His talent, dedication, and reputation earned him a position at the Culinary Institute of America in St. Helena, California, cooking for the Wine Spectator restaurant and instructing classes—without ever having been to culinary school.
He eventually became head chef at the Lake Hotel in Yellowstone National Park, the most distinguished dining in the park. His career path includes rolling sushi in the Florida Keys, becoming a pastry chef in Portland, and the proud owner of a multi-cultural food truck.
Serving timeless Italian dishes along with seasonal specials, Blacksmith is known for its locally sourced foods, homemade pasta, cheese, and pastries. Cory teaches his techniques to everyone in his kitchen.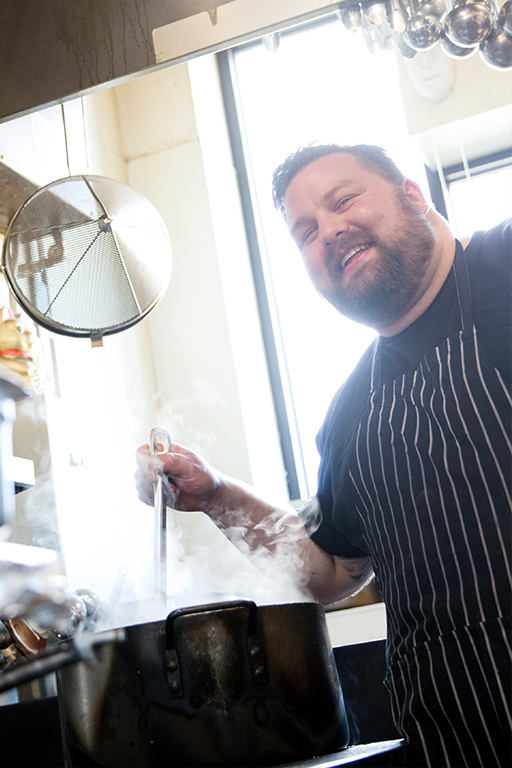 Representing a lifetime of recipes, this book holds the secrets to Blacksmith's flavor. From long-standing favorites to seasonal specials, each dish has been formulated through the wisdom passed down by some incredibly talented teachers.
Note to the kitchen: Don't lose this book!
Blacksmith Italian pays homage to Stefano Dragone, the Italian grandfather to father and son team Steve and Cory Dragone. Stefano became a blacksmith apprentice at a very young age learning to shoe horses and make tools. His craft eventually took him and his to Rochester, NY where he and his wife raised their eight children. Just as his great-grandfather did, Cory learned his artistry at a young age, and the family's work ethic is evident throughout the restaurant.